Dell's first high-end XPS laptop with built-in 5G, the Dell XPS 13 2-in-1, is aimed at road warriors who feel the need for speed.
Rather than carry around a separate Windows notebook and tablet, 2-in-1 hybrid touchscreen devices arrived around a decade ago – to seemingly offer the best of both worlds. There's a physical keyboard at your disposal for typing business reports and school assignments, but you can tear off the keyboard when you're working on something that's better suited to holding a tablet.
That said, 2-in-1s are really a specialist tool and they're not the right fit for everyone. One trade-off is that some hybrids rely on covers with built-in thin keyboards, known as "folio covers". While they're convenient, folio cover keyboards are generally cramped and underwhelming compared to what you'd find on a traditional laptop. Another trade-off is that Windows-based hybrids also tend to be a bit big and bulky compared to rival tablets like Apple's iPad.
The latest Dell XPS 13 2-in-1 continues to hone the hybrid concept. Traditionally, Dell's 2-in-1 devices have featured a keyboard that folded back out of the way to create a tablet, but now it has followed the Microsoft Surface Pro down the detachable folio cover path. It is also the first Dell XPS device to feature built-in 5G connectivity for those who want to take advantage of Australia's fastest mobile broadband networks when they're out and about.
Review: Dell XPS 13 2-in-1
| | |
| --- | --- |
| Australian website | Dell |
| Price | from $1,698 RRP |
| Warranty | 2 year |
| Other   | More GadgetGuy Dell news and reviews |
Dell XPS 13 2-in-1 first impressions
Tablet
For a device centred around portable productivity, the Dell XPS 13 2-in-1 feels a little heavy when you take it out of the box. The tablet alone tips the scales at 736 gm, which is a bit much to hold in your hand for extended periods.
Along with this, add another 560 gm for the folio cover. So that's 1.3 kg to lug around in your carry bag, which might be a bit much for some people considering the wide range of sub-1 kg laptops on the market. To be fair, it's still lighter than its closest 2-in-1 rival, the Microsoft Surface Pro 9.
Fire up the Dell XPS 13 2-in-1 and you can immediately appreciate the strengths and weaknesses of the hybrid format.
The body certainly makes for an elegant tablet, with a bright, crisp 13-inch 2880×1920 touchscreen which offers a good balance between usability and portability. It's a 3:2 aspect ratio, similar to an A4 page, which is better suited to productivity than watching movies.
The screen features tough GorillaGlass Victus. There's also active pen support and Dell includes a stylus that attaches magnetically to the top of the tablet (in landscape mode) where it recharges. Unfortunately, there's no cavity for safely sliding the stylus inside the computer.
Along the top edge of the tablet, you'll also find a power button on the right – which doubles as a fingerprint reader – and volume buttons on the left. Down the left edge are two Thunderbolt 4 USB-C ports for charging and connecting external devices including monitors. Thankfully, Dell includes USB-C-to-USB-A and USB-C-to-3.5 mm audio adaptors so you can keep using your older peripherals.
When it comes to multimedia, the tablet features speakers on each side for stereo sound, along with front and rear cameras. There's also a front IR camera, allowing the Dell XPS 13 2-in-1 to support Windows Hello facial recognition for unlocking the device.
Across the bottom edge is a connector that attaches to the folio cover with a strong magnet, helping the tablet mimic a laptop.
Folio cover
As with all hybrids, the folio cover is a story of compromise – but Dell's is actually one of the better folio cover keyboards you'll find on a 2-in-1. Thankfully, Dell includes the folio cover standard, whereas it's an optional extra with the Surface Pro range.
The Dell keyboard is in no way cramped. It features large, well-spaced backlit keys which sit above a decent-sized trackpad. It's blessed with a row of function keys, two full-sized shift keys and well-placed arrow keys – unlike some portable keyboards which sacrifice these in the name of space but leave you with a keyboard that is incredibly frustrating to use.
If you appreciate a good keyboard then you'll know the importance of "travel", referring to how far the keys depress before registering a keystroke. A long travel assists with accuracy and also makes the keyboard more comfortable to use for extended periods.
The Dell XPS 13 2-in-1's keyboard offers impressive travel for a thin folio cover, meaning it might win over wordsmiths who have previously dismissed hybrids due to their frustrating keyboards.
The other big frustration when it comes to folio covers is that they don't offer the flexibility of a laptop's hinge when it comes to angling the screen just where you want it. Here the Dell XPS 13 2-in-1 is also an improvement over many rivals.
There's no actual stand on the back of the tablet, as with Microsoft Surface Pro 2-in-1 devices. Instead, the Dell folio cover extends across the back of the tablet and can fold to act as a stand.
Folio cover stands typically only offer a choice of one or two positions – generally tilted too far backwards or forwards to act as a laptop replacement. The Dell folio cover improves on this by incorporating a firm magnet in the top edge.
This offers granular control, letting you raise the screen as high as 90 degrees and as low as about 60 degrees – which should suit most use cases, but still isn't quite as flexible as the Surface Pro's kickstand.
There's no option to tilt the Dell screen back to around 30 degrees, which would be useful if you're drawing on the screen, or using the screen to demonstrate something to others. Nor is there an option to prop up the keyboard on a slight angle to improve the typing experience.
Another disadvantage of the folio cover is that the laptop feels far less stable resting on your lap than a real clamshell-style laptop.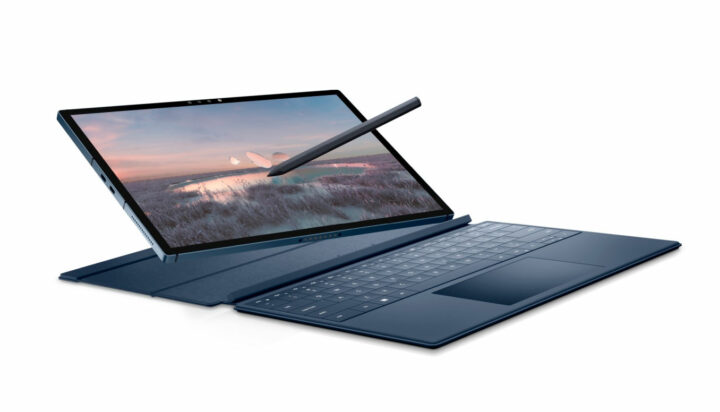 Dell XPS 13 2-in-1 specs
Display size
13 inches, 3:2 aspect ratio
Display resolution
2880×1920 pixels
Display technology
IPS, 60 Hz refresh rate
Anti-Reflective(AR)/Anti-Smudge(AS)
Bands
4G LTE, 5G sub-6
Processor
12th Gen Intel Core  i5-1230U or i7-1250U
Graphics
Intel Iris Xe
Rear cameras
2160p at 30 fps, RGB camera
Front camera
5 MP 1080p at 30 fps, FHD RGB camera
480p at 60 fps, IR camera
RAM
8 or 16 GB LPDDR4x, 4267 MHz
Onboard storage
256 GB, 512 GB or 1 TB M.2, PCIe NVMe, SSD
Charging
USB-C, 45W AC Adapter
Battery
3 Cell, 49.5 Wh
Wi-Fi
Intel Killer Wi-Fi 6E 1675 (AX211) 2×2
Bluetooth
5.2
Operating system
Windows 11 Home/Pro
Security
Fingerprint readers, Windows Hello facial recognition
Dimensions
Height 7.4 mm, Width 292.5 mm, Depth 201.2 mm
Weight
736 gm (plus 560 gm folio cover)
Features
The Dell XPS 13 2-in-1 offers the benefit of a relatively featherweight design, at least for a 2-in-1. In return, it's a bit of a lightweight when it comes to performance.
Under the bonnet, you've got the choice of a 12th Gen Intel Core i5 or i7 power plant, relying on the lower-powered U-series chips designed for "ultralight laptops and foldables". It's accompanied by 8 or 16 GB of LPDDR4x 4267 MHz RAM. By opting for some of Intel's less demanding chips, Dell has curbed performance but allowed for a fanless cooling system.
You're also relying on Intel Iris Xe Graphics, without the option of upgrading to a discrete graphics card.
When it comes to storage, you can choose between a 256 GB, 512 GB or 1TB M.2 PCIe NVMe solid-state drive. As for connectivity, you've got the Intel Killer Wi-Fi 6E 1675 (AX211) 2×2 chip along with Bluetooth 5.2 Wireless Card.
Of course, the real "killer" feature for many people is optional built-in 5G although, as you'd expect, it's limited to the sub-6 GHz bands and can't take advantage of the faster millimetre wave 5G networks which are gradually rolling out across the country.
There's no physical SIM card slot, instead, you're reliant on an e-SIM, which is convenient – especially if you travel – but might limit your choice of mobile telco.
Quality
Dell's decision to go with lower-powered Intel chips helps with the fanless design, but in return, you're sacrificing some grunt compared to options like the XPS 13 and XPS 13, which rely on a standard laptop design.
It's still more than enough for day-to-day productivity, but it's something to keep in mind if you intend to use the 2-in-1 in tablet mode for high-end multimedia or design work.
Keep in mind, by default Dell dials down the performance to help manage heat and battery life. Not just using the typical Windows performance settings, but also via Dell's Power Manager Thermal mode (hidden away in the My Dell app). Set to Optimised, you'll maybe squeeze seven to eight hours out of it. If you dial things up for Ultra Performance boost, that becomes more like four to five hours.
On the default Optimised thermal settings with an i7-1250U processor, the Dell XPS 13 2-in-1 delivers middling GeekBench 6 results of 1352 single-core and 4408 multi-core. Max out the thermal performance and this jumps to 1730 and 6296.
GadgetGuy's take
The 2-in-1 format is not for everyone but, if you're sold on the concept of a detachable folio cover then the Dell XPS 13 2-in-1 has a lot to offer. It's an improvement on the Microsoft Surface Pro range in some areas but not others, so be sure to compare them to see which is the best fit for your needs.
Keep in mind, the 2-in-1 design often demands compromises in terms of price, weight and performance compared to a traditional laptop, or even a 2-in-1 with a keyboard that swivels back rather than detaches. Also, consider whether an Apple or Android tablet might better suit your requirements than a Windows device (although it's possible to run Android apps on Windows 11).
If you're a keyboard warrior who would rarely use the device in tablet mode, then a 2-in-1 is probably not for you but it's worth checking out the rest of the Dell XPS range.
Would I buy the Dell XPS 13 2-in-1?
Only if I was sure that I'd spend more time using it as a tablet than as a laptop.
Dell XPS 13 2-in-1 laptop (9315)
A windows tablet with a keyboard cover for when you want to use it like a laptop, the Dell XPS 13 2-in-1 aims to be an all-in-one portable productivity tool.
Positives
Good folio cover keyboard
5G eSIM support
Fanless design
Lightweight and affordable for a 2-in-1
Negatives
A little under-powered
More expensive than standard laptop
Heavier than standard laptop
Inferior keyboard to standard laptop